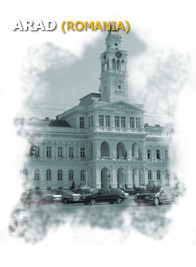 ARAD (Romania)

Situated next to the western border, Arad is a main gate for West-European travelers. The picturesque landscape of the hilly and mountainous zones of the river Mures urge tourists to visit its numerous sites.
Arad started out as a modest, rural, Romanian settlement in the Middle Ages, but its development as a western type of city begun in the 1st decades of the 18th century, with the Austrian rule and administration. Built along the river Mures and the Revolution Boulevard, Arad is a great industrial and cultural centre. A large variety of architectural styles color the city's aspect: Neo-Gothic, Neo-Renaissance, Baroque, eclectic or Secession styles are all "gathered" harmoniously in the centre of Arad.
The Old Theatre, which is probably the oldest building of this type in Romania, and The Old Water Tower both evoke the old Arad and form a perfect destination for a quiet walk in the evening.
The two cathedrals, Orthodox and Catholic, are two outstanding examples of pure architecture:"St. John the Baptist" Orthodox Church was built in a simple baroque style, while the Neo-Renaissance style is characteristic for the Catholic Church. In the tympanum of the latter church, right above the portal, a " Pieta" statuary group, a copy after Michelangelo, can be seen. Arad allows its tourists to have fun and enjoy themselves in a promenade on the Mures's bank and if they want a place for relaxation, they can cross the river to the "Neptune" swimming complex, the largest of its type in Eastern Europe.